Why Are Transformer Tubes So Awesome?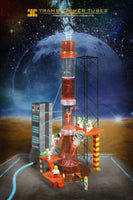 Modularity, Of Course!
Transformer Tubes are the solution to your typical bong, and it's all thanks to modules. We've taken all the coolest components of a bong and broke them down into individual units. Not only does this create a vast array of possibilities, but unlocks many user-friendly benefits. The ability to easily customize, upgrade, transport, and clean your bong is now at your fingertips.
Start Here!
How It Works
Start with a base, end with a mouthpiece. The modules that go in between are up to you! Every module comes outfitted with threads to screw onto any other module. Using this system, we present to you Build-A-Bong! We offer percolators for filtration, freezer modules for maximum cooling, angles to get creative, all in a variety of colors for complete customization!
Build Yours Now